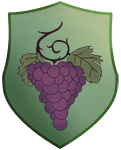 THE EVERGREEN
''Pure of heart"
Current Ruler:
house Vigneron

Capital city:
Wineport

Religion:
Dragonfaith

trades:
Fruits, Wine, Grain

Sigil:
Grapes
ABOUT THE EVERGREEN
As the most fertile lands in all of Avalance, most grains and fruit are grown in the Evergreen. As such, its cities are rich and strong within the trading routes. The beautifully green and lush areas attract visitors from all over the land, as well as those from Lavarr. Its people are often welcoming, knowing well that tourism and export is what keeps them going. The warm winds from across the ocean keep the temperatures in the Evergeen a pleasant warm and the hills and forests a lush green and golden colour. Winters are never very harsh in the Evergreen.
Flora & Fauna
This region holds up to its name. From the lush forests to the rich green valley's everything in this province shows life in its purest form. Only a few predators call these lands their home. Bears, foxes and lynxes both live and hunt in the woods, rarely showing their faces outside of the dense forests. There are some who claim that unicorns also roam in these woods but this has never been confirmed. These same forests are also home to many species of deer and boar. Among the smaller animals found in the region are skunks, martens, beavers, otters, and badgers. The Evergreen knows an abundance of bird life, including species of migrating birds, including ducks, geese, and thrushes.
The forests consist of oak, beech, and chestnut trees. Most of the forest free lands have quickly become farmlands over the years, with vineyards that stretch as far as the eye can see. There is a great abundance of flowers in the lower lands of the Evergreen, among these: lilies, iris flowers, rosemary bushes roses, sunflowers, and daffodils.
Evergreen Culture
There are many cultures in the Evergreen, as there are many kinds of people who have found a place to live here. From the rich snobs in Wineport, to the pirates who roam in the Kraken's Lair. There is never a dull day in Evergreen and its beauty brings so many foreigners, that its cities are never the same as they were the day before. People who are more prosperous, are welcoming and know that tourism makes sure that they have bread on the table at supper, showing their visitors a smile as bright as the Evergreen itself.
RULING HOUSE
House Vigneron has lead the Evergreen for many years now, doing so in absolute peace. This family has always believed that a good life equals a good death, so that is what they strive to have. They made their way to High House by growing grapes and eventually selling wine, making money and allies in the process. They have a great relationship with the king and their people.

DELSIN VIGNERON

Lord of House Vigneron
CITIES IN EVERGREEN
WINEPORT
Currently ruled by House Vigneron
FAIRVIEW
Currently ruled by House Couture.
RIVERHOLD
Currently ruled by House Mercier.
KRAKEN'S HARBOUR
Currently ruled by House Mercier of Kraken's Harbour.
DORWINE
Currently ruled by House Vigneron of Dorwine