on Mon 29 Jul 2019, 22:51
A plan had been made. Now, she just needed to get the details right. Walking around with a paper, checking her list to see if there was anything that she could have perhaps missed. The cage was ready outside, so she could soon use the bait. Her heels echoed the rhythmic sound through the tower as she paced through its dungeons, her fingers sliding over some books she had in a bookcase all alongside the wall.

"Elayne?" she asked, her voice echoing through the tall tower. Today would be a long day with lots of things to take care of, but perhaps they could hang out for a bit now. Enjoy some breakfast together, or something. Élise did not have servants in the tower, so Elayne took care of some things and Élise of others. She had made sure that there would be food to get ready, so if Elayne could get it set up on the table on the upper floor, they could enjoy it together for once.

&' Elayne

on Wed 31 Jul 2019, 03:50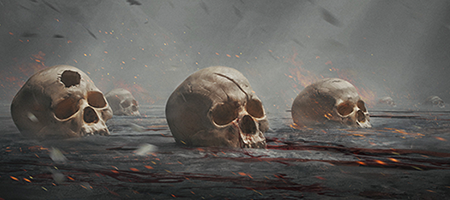 I settled my grievance by crafting a mask and I never looked back
Élise had been very busy lately, although, to be very honest, she had always been pretty busy. Every time it just seemed to be more serious than the previous to Elayne. It was lonely sometimes, in the tower. There were other friends to play with, but Élise was different, she always had been. None sparked as much joy with granting her some of her time. It was no surprise that the young woman, at the sound of footsteps on the cold dungeon floors and the call of her name, sprung from the chair she had been sitting on. "I am very sorry Victor, but I have to go now. Élise was calling for me!," she quickly said to her friend to excuse herself from the conversation they had been holding a few seconds ago. As she almost ran outside of the room, the skull lay on the table in silence.

"Élise? You were asking for me?" she said as soon as the young woman came into view. Oh she hoped so that her friend had meant for them to spend some time together and that this was not about some errant or a notice for her absence. It had been too long since the two of them had been able to have a good talk. Maybe she would even have time to tell her about some of the things that were going on in Avalance. Elayne always loved hearing stories, especially if these included the cool things Élise was doing.
MONTY
on Wed 31 Jul 2019, 23:29
A normal person would feel for a girl like Elayne, who came running at the sound of her own name. She was filled with excitement, like a dog being called by their owner. That was kind of what she was, actually. Taken away from her parents, to live with strangers. Yet, finding happiness there. Élise had grown to love the girl, completely ignoring the fact how fucked up their relationship was. She cared about her and let her roam, unlike the other subjects. Elayne was a special one and she would end the one who would ever try to hurt her. Yet, she refused to let the girl be taken away. Even if she knew that the girl would actually be happier elsewhere. She was hers and no one could touch her.

"Don't you think we should grab some breakfast together?" she asked the redhead, smiling. "I have made sure that we have bread, meat and some milk, so if you could get it ready, I can make time." It would be nice to spend some time with the girl, especially since Élise only recently came back from visiting the Evergreen. Perhaps she could stay here a bit longer this time, but that was always a question.

on Thu 22 Aug 2019, 22:41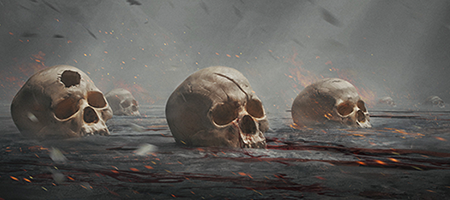 I settled my grievance by crafting a mask and I never looked back
When Élise asked her to have breakfast together, her face lit up. "That is a wonderful idea, I would love that!" she replied with an excited voice, clasping her hands together in front of her chest. Nowadays they got to spend so little time together, maybe Élise would decide to stay a little longer if she had fun. "I will get it ready straight away."

The young woman rushed towards the kitchen. Hastily setting up some plates at the table, getting all of the food out, poring some milk into the glasses. When everything was ready and looked perfect, she turned around to call Élise over. "I'm done, we can have breakfast now!" Elayne sat down on the chair she usually occupied when she and Élise were eating together. "How was your latest journey?" she asked as soon as the other woman entered the room.
MONTY
on Tue 27 Aug 2019, 15:22
As expected, Elayne found the idea to be lovely. Élise could not help but smile at the girl's excitement, nodding as she said that she would get it ready immediately. Instead of following her to help, Élise moved up a floor, to find herself lost in the books that were found there. Books she kept hidden, with recipes for disaster. Both literally and figuratively.

By the time their breakfast was ready, Élise had moved to the kitchen to read a book on undying. Closing it and throwing it on the couch, she moved towards the small dinner table, to take place on the opposite side of the table. "Thanks, Elayne," she thanked the girl, looking at the food with a smile on her face. It was nice to spend time with Elayne, as she considered her to be the one person she could trust fully in this world. Perhaps because Elayne's mind had shaped according to her wish. "It was… eventful," she told the girl, thoughtful as she did. It had been - but there were few things she could speak to Elayne about. "I came across a monster, Elayne. I think it is time we rid the world of those, don't you think?" she asked, smiling as if she was talking about some mindless creature underneath a child's bed.

on Sun 06 Oct 2019, 14:26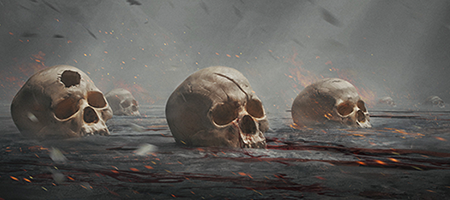 I settled my grievance by crafting a mask and I never looked back
Elayne smiled as Elise threw away her book, sat down at the table and thanked her for setting up breakfast. The girl listened carefully when her friend started talking about the journey she asked about. Eventful, that sounded quite thrilling. A monster even more so. "What kind of monster was it? A real scary one? They won't be coming here, right?" she asked. The thought of monsters both intrigued and scared her at the same time. She wanted to hear about it, like she loved to read stories. She did not want to encounter one herself. Elise was way more capable handling those kind of situations. "I do think they should go away, but please be careful."
MONTY
Permissions in this forum:
You
cannot
reply to topics in this forum