on Thu 26 Nov 2020, 17:14
At last he had reached Fairview. It wasn't like he had been in a hurry to get here, but it would surely be a relief to sleep in a normal bed again. He had been on the road for a while now. It was weeks ago since the man had kicked him out of the Glade. And he wasn't even at his final destination yet. Now he was around he could as well pay Elayne a visit. He hadn't seen her in half a year. There were few people he cared about, but she was definitely one of them.

Walking through a city with a dragon was always an experience. People tended to stare, but luckily most of them didn't get any closer. And here in the Evergreen they were used to dragons more than anywhere else. Thus he got to the castle without any trouble. The guards, as usual, stopped him. "Tell your Lady a friend is here to visit", He said, after which he gave the man his name. In the meantime he got off his horse and observed how Draugur inspected the courtyard.


on Thu 26 Nov 2020, 18:02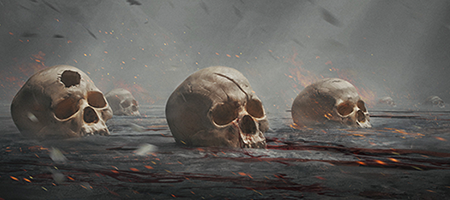 I settled my grievance by crafting a mask and I never looked back
It was not unusual for Elayne to receive visitors in Fairview. As she tended to make friends everywhere she went, there had been quite a few instances already where familiar people had come to the city. She had almost dropped the book she was holding, however, when the guard who had come to fetch her for the newest arrival told her a friend of hers was here and that his name was Jules Deveaux.

Elayne had written a letter to Élise's halfbrother after what had happened. She had no idea where the young man had been, only that he had travelled further north to keep his dragon safe. There had been no letter sent in reply to hers. That could have either meant he did not want anything to do with her anymore, something she understood, or he had not received the letter at all. There had been no way to find out.

After these months, she had assumed their paths would not cross again, but now he was here and she had no idea what he thought of her now. The guard had told her about the dragon too and while she was a little excited to see how he had grown, part of her dreaded facing his companion. It reminded her of what she had done, brought back the memories much stronger.

She took a shaky breath as she entered the courtyard, gaze immediately falling on the ice dragon who had grown considerably. Still, she could not bring herself to smile, not until she knew what Jules knew and what his opinion about it was. "Jules," she greeted him, "How are the two of you doing?" It was a genuine question. Even if he brought the memories about his sister back, he had never been involved with the things that had happened to her.
MONTY
on Thu 26 Nov 2020, 21:19
After spending so much time in seclusion, with only one other human and a dragon as company, it took some getting used to crowded areas again. He distrusted others even more than before. Mainly because he now had Draugur to take care of. Some reacted in very extreme ways to his presence. Luckily he was bigger and stronger now. He could defend himself better now. Still he was hesitant to take risks. It was only because he trusted Elayne enough that he dared to bring the dragon within the walls of this castle.

It felt a bit nostalgic. After all his soulmate had hatched here, in the very ice cellar beneath the building. The dragon didn't share his sentiment just yet. He was too busy giving the guards a thorough inspection, his head tilted to the left slightly and his spiked tail swatting back and forth. He was just watching when a familiar voice called out his name. "Elayne", He greeted her back, a smile gracing his lips. A gesture that was lacking on her side. Peculiar. He could hardly remember her not smiling. She was usually quite cheerful.

"I am fine, thank you", He answered her question. "Draugur is very busy, as you can see", He then said. He turned his attention back to the white creature. He had lost interest in the guard, now instead moving towards the water well next to the stables. "Everything is new and interesting to him. I need to be careful he doesn't wander off on his own", He added while shaking his head. He could be a handful sometimes. "How about you then? How have you been?" He returned the question. Maybe he should have written her every now and then, but it would've been a hassle considering how far from civilisation he had been for all those months.


on Thu 26 Nov 2020, 21:35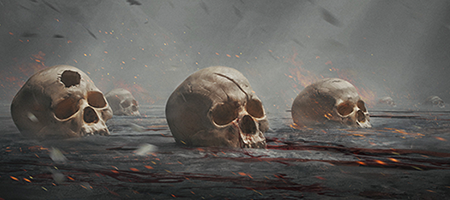 I settled my grievance by crafting a mask and I never looked back
Jules smiled at her as he greeted her back and Elayne knew that he could not have gotten her letter. She had been lucky with everyone forgiving her for all the things that had gone wrong, but she knew that this was too much to hope for. No matter what his relationship with Élise had been like, she had been his half-sister.

She struggled to keep her expression in check and her posture neutral not to betray the fact her knees felt weak from the burden she felt pressing down on her. Jules answered that he was fine and that Draugur was very busy, as she could see. Elayne's gaze flashed towards the dragon for a moment and she wished she could smile and be proud that he was growing fast. She nodded. "I guess that's only gotten harder to do now that he's growing so fast," she commented. While the ice dragonet looked like he could defend himself now, he still would not stand a chance if anyone planned a real attack on him.

How about her? How had she been? Elayne looked down for a moment, knowing that she could not lie. No matter what the consequences would be. "I don't think you've received my letter, did you?" she asked even though she knew the answer already and she dreaded the fact that she would have to tell him face to face.
MONTY
on Thu 26 Nov 2020, 21:54
Her behaviour was off. It was hard to tell why though. He wasn't really that close to her. Perhaps she just had a bad day. Or it could be related to her job. He could imagine ruling a city wasn't the easiest task. For now he decided not to mention it. It was none of his business anyway. Instead he answered her question. He had expected some more excitement from her side, in all honesty. She had been all over the dragon when he had just hatched. Now she hardly granted him a look. Only when he pointed him out did she throw him a glance. "For now he listens to me when I tell him to come back", He shrugged. At least he was smart enough to understand the importance of that.

Her mood seemed to take a turn for the worse when he returned the question. This time it worried him. Draugur had sensed his shift too, turning his icy blue eyes upon them as he sat upon the edge of the well. "No, I've been hiding in the wilderness for some time. I know nothing of a letter", He frowned. He stared down at the redhead as if an explanation was written on her face. "What happened? Did someone try to harm you?" He asked. Maybe she had needed his help. But why would she write him instead of his sister then?


on Thu 26 Nov 2020, 22:48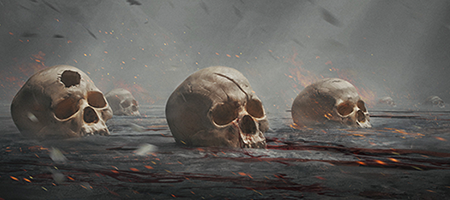 I settled my grievance by crafting a mask and I never looked back
Even though she was trying so hard, she knew that everyone who knew her in the slightest would see that something was amiss. Normally she would be all smiles and excitement, especially to see the dragon again. Now she could not bring herself to smile, because she knew what she had done and it did not seem right unless he had actually forgiven her for it. Which he could not have.

For now, the dragon listened to him when he told him to come back. "That's good," she commented, genuinely happy that it seemed as if they had not encountered too big of a threat yet, but again unable to show it like she was used to.

Elayne felt the extra pair of eyes on her and she knew that they knew something was wrong. Even though it had not been a question, she felt like someone had knocked the air out of her lungs when Jules confirmed he knew nothing of a letter. She stayed silent for a moment longer, upon which he asked what had happened and if anyone had tried to harm her. "Your sister," she managed to say, although her voice sounded so small she would not be surprised if he had not heard it at all. "Maybe we should sit down," she added a moment later, already feeling dizzy at the thought of having to admit that she had stabbed Élise and it was her fault she was dead.  
MONTY
on Fri 27 Nov 2020, 13:31
The more she tried to explain, the more confused he was. Her nerves didn't really help either. It was starting to rub off on him now. He was worried he had missed a very important development while he had been in hiding. Then she softly muttered two words. He was not even sure he had heard her correctly. It made him realise how little he knew about what had been going on in the world the past half year. He didn't even know what Élise was up to these days, or where she was residing at the moment. 

"Alright then, lead the way" He responded eventually. Through their bond he asked Draugur to follow him. The dragon pushed himself away from the wooden edge of the well, leaving scratch marks in the structure. With a few lazy movements of his wings he drifted all the way to his side, using the soft breeze to carry him. As he started walking his companion stuck close to him. Most likely he had sensed his confusion so he offered his support already. Support he would need when she would finally share the news.


on Fri 27 Nov 2020, 14:19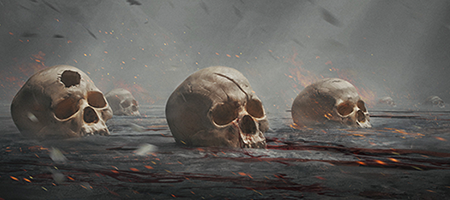 I settled my grievance by crafting a mask and I never looked back
Jules did not respond to her mentioning his sister, but when she suggested sitting down he told her to lead the way. Elayne stood still for a moment, willing her legs to move before she started walking towards the main hall. There were a few rooms in which she often received her guests. She picked one which was not as cluttered, to make sure that Draugur was still able to move around without leaving too much of a mess.

After entering the room she sat down in one of the chairs after gesturing him to do the same. Writing that letter had been hard already, but figuring out how to start this conversation was a hundred times worse. Part of her wished Aemon was here right now, but she knew he would have never agreed to her speaking to another Deveaux and especially not with the news she would have to bring.

Now that she was sitting down at least her knees could not give way beneath her. Were she to raise a hand he would see her trembling, however. Thinking about how to say it brought it all back. The desperation, the fear, her having to sacrifice everything she had held onto the past eight and a half years to save the one she loved and ultimately herself as well.

"Élise... is dead," she said, knowing that she would not be able to say it any other way. Yet it was one of the very few times she had said it out loud this way. Even though her life was better now and she had seen the woman for the monster she had become, there was still a tiny part that wished it could have been different.  
MONTY
on Fri 27 Nov 2020, 17:50
There was no way he had expected this day to take a turn like this. He had looked forward to catching up with the redhead but now he somewhat regretted taking this detour. She confused him. A feeling he absolutely despised. He was used to being in control. Especially when it came to negative emotions. For years he had struggled with his own bad temper. Growing up without anyone to explain to him what the magic in his blood was all about had left him to figure it out on his own, with the unfortunate decisions he had made and the consequences he had to live with as a result.

As he sat down it felt like he was standing on that edge again. Looking down into an abyss he had vowed never to fall into again. He had a bitter taste in his mouth as he watched her trying to get a grip on her thoughts. He felt the pressure of the dragon leaning against his leg but he couldn't take his eyes off her. And then she said what she had to say. His first reaction was to laugh. A soft yet amused sound rolling of his lips. One that died down soon enough when he realised she wasn't joking.

His grip had tightened around the armrests of the chair. His chest felt heavy as he struggled to breathe. His sister was gone. They hadn't been that close during their childhood. They both had walked different paths. But eventually their roads had crossed again. In that short amount of time they had been through a lot. He had started to respect her, care about her more. And now she was gone. Tears were forming in his eyes, but he wasn't sure if they were caused by anger or sadness. "How?" He finally managed to say. Elayne must know more. He needed to know what had happened.


on Fri 27 Nov 2020, 18:17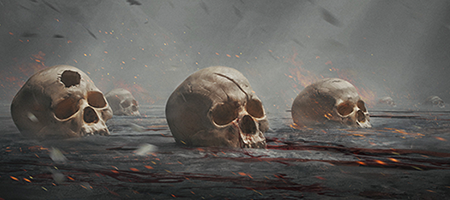 I settled my grievance by crafting a mask and I never looked back
His first reaction startled her. An amused laugh that quickly died down as soon as he realized that she was not joking. She would never joke about his. Elayne did not know if it would have been better if he had just laughed it away, instead of tightening his grip on the chair he was sitting on, eyes starting to glisten with unshed tears. It was as if all the pain she had felt right after came crashing down on her again. Even worse now, because she had done this to him, she was the reason he was in pain now. She had never wanted to cause anyone any pain.

How? The redhead had known he would ask, but it would be a hard question to answer. She had to admit her guilt and she had no idea how he would take it. The safer move would have been to lie. Not to mention her involvement, but she could not lie about this. It would only make matters worse if she did and no one deserved to hear a lie about their sibling's death.

"It's my fault," she admitted quietly, using all her willpower to keep looking at him instead of away at the ground. Her vision was becoming blurry as well because of the tears welling up. "I don't know what happened before but she came back to Fairview as an Undying and she started locking me up again, threatening me, my friends," her voice trembling as she spoke. She could not excuse what she had done, but he had to know she had not just decided to kill his sister because she was done with living her life the way it had been. "And then she was killing Aemon. And I couldn't-" Could not stop her any other way, could not reason with her, could not live in a world where everyone she cared about kept dying.
MONTY
on Fri 27 Nov 2020, 19:58
His world was turned upside down once again. It was a harsh realisation to find out his life would change for the third time in a short while. In the last year he had seen his father for who he really was. Élise had been the one to show him his true nature. He had died because of his beliefs. Because his sister had declared him a mad man with twisted dreams, an obstacle on their way. And with him, his influence had died too. It was only then he had found out the truth about his mother. He had made his peace with her. Then he had been granted the greatest gift he could have ever received. A dragon, a soulmate, to share his dreams with. And for a while he had truly believed life could turn in his favour. How he had been wrong.

The one who had set this better future in motion was gone. He wanted to know how. How this could have happened. The corners of his mouth trembled while she explained how his sister had met her end. Eventually he stood up with such force the chair he was sitting in toppled over. Draugur felt his anger rise, which caused him to let out a threatening growl. Jules walked over to the window, leaning against the bricks while he looked outside.

"Stop talking", He snapped at her, clenching his jaws after. "She cared about you. She wouldn't do those things, she wouldn't.." He rambled. He was interrupted when the dragon roared again. For a moment after there was silence. He turned around again, clearly upset. "Did you at least.. Give her a proper resting place?" He asked while fighting away his tears. He hoped she had at least showed her that respect.


on Fri 27 Nov 2020, 20:43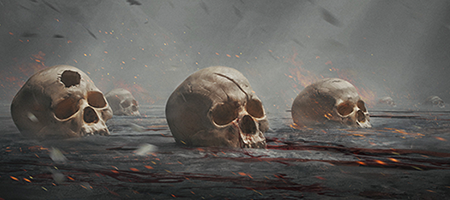 I settled my grievance by crafting a mask and I never looked back
Elayne shuddered as Jules stood up abruptly, toppling the chair he had been sitting in as a result. Not only that, but Draugur started to growl as well, telling the redhead that she should be careful with what she was saying. Not that she could or should sugarcoat her words in any way. He deserved to know even if that made him a potential threat to her. At least right now she was not endangering anyone else but herself.

He snapped at her, telling her to stop talking after having walked away to the window. Jules' next words only served to bring more tears to her eyes, a steady stream across her cheeks. She had wanted to believe what he had just said so badly, but something had snapped back then because Élise had done all those things. The woman had even said she would make Aemon suffer instead of making it quick, forcing Elayne to watch.

She was snapped out of her thoughts by another roar from the dragon. Elayne had never been scared of dragons before, not like she was in this moment. They could feel everything their rider felt and right now all of that anger was pointed towards her. Reasonably so, but that did not mean she was very eager on getting attacked.

When Jules turned around to face her again and asked her if she had at least given her a proper resting place, she could not keep her voice from trembling as she spoke. "I wasn't there, but they put her on a burial pyre." She had asked about it but she had been unable to get herself to face the body of the woman she had once called her friend back then.
MONTY
on Fri 27 Nov 2020, 22:32
Murdered. His sister was murdered. By the woman she had loved so dearly. It was cruel. He could not believe a word of what Elayne was saying. It was true, Élise had not been scared to use questionable methods to achieve her goals. But he knew she would not turn on the redhead like that. She had always looked out for her. Whatever she did had been in her best interest. And then she had betrayed her. In the worst way possible. It had cost her her life. A heavy price she had paid for caring.

His emotions were impacting the dragon in ways he could not stop right now. Their bond had grown stronger over the months too. He could not avoid his feelings flooding the other anymore. In his anger Draugur ripped a cushion to shreds with his teeth. Luckily for Elayne he followed his example of taking out his anger on the furniture. Her words almost got lost in the noise the dragon was making.

Through his tears he could see she was visibly upset too. This explained her behaviour. She felt guilty. "They burned her body", He concluded, his own voice unsteady now. He knew that was not the way she would have wanted to be buried. Not with her faith. But all that was water under the bridge now. Jules took a deep breath to calm himself. Or at least attempt to. "We are leaving", He stated. He didn't want to spend another minute in this room with her. Before he walked through the door he turned around one more time. "I hope you're happy now", He said, and to his own surprise it didn't even sound sarcastic. There was just his own pain and sadness. She had made that decision. Now she had to reap the benefits or live with the consequences.


on Fri 27 Nov 2020, 22:47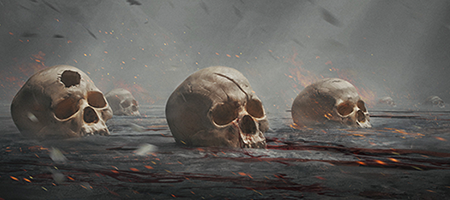 I settled my grievance by crafting a mask and I never looked back
Elayne felt her heart beat in her throat at a rapid pace when Draugur ripped a cushion apart, knowing that it could have been her if he wanted to. If Jules decided to take his anger out on her she did not think she would stand a chance. Not daring to move, she had gripped the skirt of her dress in a last attempt to keep herself together somewhat even though she felt she had failed at that already.

They burned her body, Jules concluded. Even if she had known exactly what Élise would have wanted after her death, Elayne would not have been in a state that had allowed her to arrange it. She did not even know if she had wanted to. Underneath all the hurt was just a tiny bit of anger as well, after being forced to acknowledge what had been done to her all this time.

Her gaze shot from the dragon to his rider when the young man stated they were leaving. Even though she knew it was for the best, it still broke her heart even more that someone who had trusted her wanted nothing to do with her anymore. She had thought she had come to terms with the fact that she had hurt him with the news already, but because there had been no reply, she had not.

"I'm sorry," she sobbed when he had stepped through the door and turned around to throw one last remark at her feet. She did not think he could hear it from that distance, maybe just seen her lips move to form the words, but she did not have the strength to say it louder or say anything else. One conversation and she felt as if she was back at the start, just after she had driven the dagger into Élise's back.
MONTY
Permissions in this forum:
You
cannot
reply to topics in this forum